Ira Dutcher: Business Man and First Worshipful Master
Ira Dutcher
Business Man and First Worshipful Master of Oliver H. Perry and Oak Harbor Lodges
by Leonard T. Evans, P.M.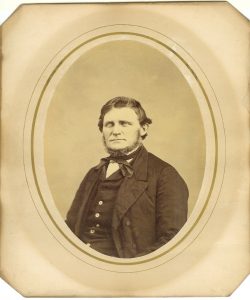 Ira S. Dutcher, a prominent citizen of Ottawa County, Ohio, was born March 13, 1814 in Dover, Dutchess County, New York to Ruleff (Ralph) Dutcher (of Holland ancestry) and Almira (Waring) Dutcher (of English ancestry). About 1819 the family moved to Auburn, Cayuga County, New York where Ira received his education. His father was a millwright by trade and Ira was fascinated with all things mechanical. While still quite a young man he went to Rochester, New York and learned the millwright trade. After becoming a millwright he worked at this trade off and on throughout the rest of his life.
On July 4, 1838 he married Mary Ann Veeder (who was of Scotch, English and Dutch decent) and set up housekeeping in Oswego, New York and for 13 years he worked building elevators and mills on the Oswego River. In 1852 Ira was sent for, to build an elevator and install machinery in mills in Sandusky, Ohio. He evidently liked the location and people of the area because he then moved his family there where he remained for 3 years.
In 1855 he was hired by a Mr. J. B. James from New York, who owned a considerable amount of land on the northern point of Catawba Island where he intended to build a cement manufacturing plant in what is now known as Catawba Cliffs, just west of what was known at the time as Ottawa City. Ottawa City was laid out as a small beginning for the city that would surely be needed to support the work force of the new cement plant. Ira was hired as the "builder" and "superintendent" of the "Cement Works" for the four years of its existence. On one occasion, while Ira was absent from the mill, an inferior shipment of cement was shipped and the reputation of the product was ruined resulting in the works shutting down in 1859. The remains of the lime kiln and quarry are still very much intact and visible inside the north gate to Catawba Cliffs yet today. The mill was long ago razed and no sign of it is visible today.
Dutcher had opened a general store in Ottawa City on Catawba at some time while working for Mr. James and the family lived in the Superintendent's House which was later known as the "Catawba Island House", owned by a Mr. J. P. Cangney, noted on the attached map. At the closing of the Cement Works, Ira, no longer employed, chose to move his family and business to Port Clinton.
This is the point where many sources conflict on times and names. One source states that in Port Clinton he formed a mercantile firm partnership with John Jenney under the name of "Dutcher & Jenney" and also took jobs at various locations in his mechanical trade at the same time. Another source states that he remained in this venture for four years and sold out in 1863. Still another source states that Dutcher took in a partnership with a Barney Jacobs, a former employee, who, after returning from duty with the 169th Ohio Volunteer Infantry (likely in 1864 or 1865 at the end of the Civil War as he had only enlisted in 1864) and shortly thereafter bought out Ira's interest in the business. Barney then successfully ran the business under his own name. This store was reportedly located a few doors west of the 'Buggy Company's Corner' at Perry and Madison Streets. Also, the newly founded "Ottawa County Democrat" (photo copies attached), had listed in their ads on Aug. 15, 1862 and Nov. 28, 1862, an advertisement of the P. P. Peck & Co. of Port Clinton, showing Ira S. Dutcher as "Agent" (only 3 columns to the right of "local and miscellaneous" column, stating the meetings of Oliver H. Perry Lodge U.D. and Oliver H. Perry Lodge, No. 341 and signed Ira S. Dutcher, W. M.). Then another paper, the "Ottawa County Union", started publication in the 'brick building' (the old Lake Hotel) on Perry Street in January 1865 with a W. B. Sloan listed as the editor and publisher and one of its advertisers for that issue was" Ira S. Dutcher & H. S. Cowell – Drygoods".
In observing the notices for Oliver H. Perry Lodge in the attached photo copies of the Ottawa County Democrat, you will notice that on Aug, 15, 1862 it reads "Oliver H. Perry Lodge, U. D." ('Under Dispensation'). Then on Nov. 28, 1862 the same notice reads "Oliver H. Perry Lodge, No. 341" and that the lodge had by then received its charter. Both these notices listed Ira S. Dutcher as Master of the lodge.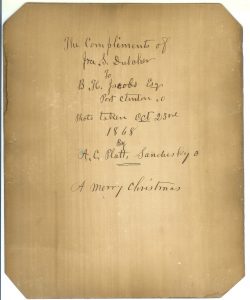 The Dutcher's moved back to Catawba Island sometime around 1865 or earlier to the 10 acres of land Ira had purchased sometime earlier on the shore of the lake on the northeast side of Ottawa City (see attached maps). One source puts the time in 1863. The location was known as Scott's Point and is where the trailer park started by the Parman's is now located, and just east of Miller's Dock. No matter the actual year or previous enterprises, Ira Dutcher did become a successful local fruit producer on his land at Scott's Point. He moved into the "old log house" on the property with its many additions, "neath the old Linden tree," a tree of over 100 years. Ira lived many happy years there and devoted most of his life to growing and improving his orchards and becoming one of the early pioneers in the local commercial peach and other fruit industry.
In 1874 -1875 the Dutcher's built a new house on the property and called it "Linden Place". This home is probably the one still occupying the property just east of the top of Millers Dock and is where Ira lived until his death on January 25, 1886. At some later date the old log house with its many additions accidentally burned and the old linden tree was struck many times by lightning and was destroyed leaving no trace today of their locations.
After Ira's death, the new house was occupied by his 2nd daughter and her husband, Mr. & Mrs. J. A. Davey who then cared for Ira's aging wife, Mary. The Dutcher's had a total of eight children, the two older daughters, Mrs. N. A. Hadden and Mrs. J. A. Davey lived on Catawba Island. Two sons and a daughter, who died in infancy, are buried at Oswego, New York and two sons and a daughter are buried with their mother and father and Mary's mother, Sarah Veeder in the Catawba Island Cemetery and later with the Haddens' and Davey's buried there also.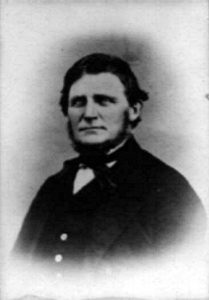 Ira Dutcher's political affiliation was the Whig Party originally, and in his first election, he voted for William Henry Harrison for President in 1836. Later he affiliated with the Republican Party and was active in the local political scene and acted as Catawba Island Township Treasurer and later Township Clerk and School Director.
In 1868 Ira became a member of the Catawba Island Methodist Church. He was a "Good Templar", "Royal Arch Mason" and member of the "Oddfellows". He joined Science Lodge, No. 50, F.&A.M. of Sandusky, Ohio while living there before coming to Catawba Island, and received his Entered Apprentice Degree on November 20, 1854, Fellowcraft Degree on December 11, 1854 and Master Mason Degree on January 18, 1855. Ira S. Dutcher and seven other brethren formed Oliver H. Perry Lodge, No. 341 in 1862 at Port Clinton, Ohio where he served as the 'First Worshipful Master'', holding the first meeting of the Lodge on the evening of March 6th in that year and served as Master again in the years of 1863, 1864, 1865 and 1866. In 1874 Dutcher helped found Oak Harbor Lodge, No. 495, and also served as its 'First Worshipful Master' in 1874 and was Master again in 1875.
On the morning of January 25th 1886 Ira S. Dutcher awoke with his usual composure and feeling in normal good health, but about 10 A. M., while sitting with his wife by the stove, he grasped his chest and said, "I don't know what is the matter with me", and with that he passed to the Celestial Lodge Above at 71 years, 10 months and 12 days. Worshipful Brother Ira S. Dutcher's funeral services were from his home and he was conveyed and buried at the Catawba Island Cemetery on January 27th 1886 by his many Brethren of Oliver H. Perry Lodge, No. 341 "who 'came in body' to do honor to their deceased Brother.
On this date of October 17th, 2007 and at 6:30 P.M., prior to the meeting of the evening, the Brethren of Oliver H. Perry Lodge performed a Memorial Service at the grave of Worshipful Brother Ira S. Dutcher in memory of all our Past Masters who have traveled the road to that "undiscovered country and that house not built with hands, eternal in the heavens".