A Short History of Oliver H. Perry Masonic Lodge
Oliver H. Perry Masonic Lodge No. 341 F&AM
Oliver H. Perry No. 341 F&AM was established in 1862 when the Most Worshipful Grand Master of Ohio, George Rex, issued a Dispensation authorizing the Freemasons of Port Clinton to form a legal lodge of Free and Accepted Masons. On March 6, 1862 the charter members, along with members of Sandusky Science Lodge No. 50, Bellevue Lodge No. 273, and Detroit Lodge No. 2, held the first meeting at Oliver H. Perry for the purpose of appointing the officers and filling the stations of the lodge.
The first officers were Ira Dutcher, Master, Eli Reynolds, Senior Warden, and James Newcomer, Junior Warden. The officers then took their positions and on March 19, 1862 began work when William Cole, who was an Entered Apprentice at Fort Stephenson Lodge No. 225 in Fremont, was passed to the degree of Fellowcraft. At the annual meeting of the Grand Lodge of Ohio on October the 21st of the same year Oliver H. Perry was granted a charter and designated the serial number of 341.
Originally a plot of land was designated for a lodge in Port Clinton by Ezekiel Haines in 1828. However, by the time the lodge was formed in 1862 the land had reverted to the owner. The first lodge meetings were held in the American House which was a part of the Lake House Hotel. In 1866 the lodge moved to the northwest corner of Perry and Madison. Then in 1875 due to rapid growth the lodge moved the southeast corner of Madison and Second. In 1895 the lodge moved to the the corner of Perry and Madison where it stayed until 2008 when the Lodge was moved to its present location at 118 Monroe Street.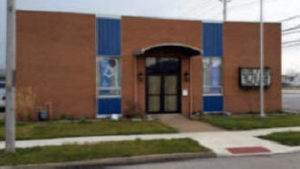 Information for the history of Oliver H. Perry Lodge was provided by the News Herald, Monday, March 3, 1975 edition.
Edited by Hayward Evans
___________________________